The Importance of Finding the Right Invisalign Provider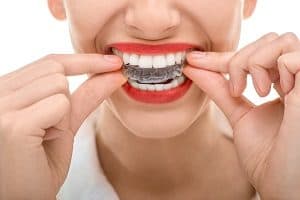 Consider Invisalign clear aligners to get the beautiful straight teeth you've always wanted — without braces and brackets. A complimentary consultation with our orthodontist in The Woodlands, TX, can determine if Invisalign clear aligners are right for you!
Invisalign orthodontic treatment uses a series of virtually invisible, removable, and comfortable clear aligners that allow you to smile more during treatment as well as after. Invisalign clear aligners are made with 3D computer imaging technology and have been proven effective.
Is Invisalign Right For You?
Not only are the clear aligners virtually invisible, they are removable, so you can eat and drink what you want while in treatment. Plus, brushing and flossing are no problem. They are also more comfortable than traditional metal braces, with no metal or wires, which also usually means you spend less time in your orthodontist's office getting adjustments. Invisalign orthodontic treatment also allows you to view your own virtual treatment plan when you start, so you can see how your straight teeth will look when your treatment is complete.
How Does Invisalign Work?
You wear each set of aligners for about two weeks, removing them only to eat, drink, brush, and floss. As you replace each clear aligner with the next in the series, your teeth will move — little by little — until they have straightened to their final positions. You'll visit us about once every six weeks to ensure that your treatment with Invisalign is progressing as planned. Your treatment time with Invisalign averages nine to 15 months and the average number of aligners worn during treatment is between 18 and 30. Both will vary case by case.
Are All Invisalign Providers the Same?
The answer to this is a combination of yes and no. Any Invisalign or Invisalign Teen provider you visit will be using the same Invisalign tools and technology, but experience and expertise can make a big difference in your final outcome.
Imagine it this way: You meet two different artists, a portrait painter and a sculptor. You give them both identical blocks of clay and ask them to mold the clay into the head of a smiling woman. Whose sculpture do you expect to be be better? Both artists spend their days working with aesthetics, but only one of them actually has the constant day-to-day, hands-on practice with the specific material of clay.
The same can be said for Invisalign. While all dentists and orthodontists in the Houston, TX, area do spend their days caring about your perfect smile, you want to make sure your Invisalign or Invisalign Teen provider is someone who specializes in and can even improve upon the setups provided by Invisalign's lab. To ensure you're receiving the best possible care, ask your provider in The Woodlands, TX, how many Invisalign cases he or she treats on average each year, and also ask whether your provider takes any additional steps to fine tune your overall Invisalign treatment plan.
This article is not meant as medical advice and is for educational purposes only. If you would like to know more about Invisalign and other orthodontic treatments, feel free to call Clear Choice Orthodontic Associates at 281.587.4900 or click here to schedule your free Dr. McLendon Smile Analysis with our expert Invisalign provider in The Woodlands, TX.
5-STAR-RATED ORTHODONTISTS IN HOUSTON, TX, FRIENDSWOOD, TX, SPRING, TX & KATY, TX
"I have always received first class treatment at Clear Choice Orthodontics. I am always impressed by the professional staff and friendliness. I would highly recommend them to anyone looking for orthodontic work! I love them!"
"I absolutely loveeeeee the staff at Clear Choice. My daughter's father is a patient there, and recommended that our daughter go for her braces. They are nice, clean, efficient, and fast!!! Almost makes me wanna get braces for fun!"
"The staff and the Dr. were very helpful. They made sure they answered all of our questions and more. This was my daughters first visit and I am very pleased. Thanks again!!"
*The reviews listed are from actual patients of Clear Choice Orthodontic Associates. Individual results may vary. Reviews are not claimed to represent results for everyone.