Oral Hygiene With Braces Advice
From Your Favorite Katy, TX, Orthodontist
No matter what type of braces you get, your oral hygiene habits will become infinitely more important during orthodontic treatment. Caring for and maintaining your braces along with your entire mouth can be the difference between having beautiful, healthy teeth after your braces come off or having de-calcification from bacterial build-up.
Your tooth brushing habits are important anyway, but brushing when you have braces is absolutely crucial. If you have braces that are attached to your teeth, the bacteria in your mouth have a number of new places to hide.
Brushing helps prevent a few things:
Bacteria build-up
De-calcification
Gingivitis
Cavities
The spaces between your teeth can also serve as a great hiding spot for bacteria, which can eventually turn into cavities. Though the first few times flossing with braces may be a little uncomfortable, your gums will soon get stronger. As you continue, your gums will get healthier and you won't have to worry about anything being in between your teeth to make them decay.
Not flossing regularly can lead to several problems over time:
Receding gum line (this can eventually lead to losing teeth)
Cavities between the teeth
Decalcification
Gum disease
To get the absolute most from your oral care regimen, you should floss, brush, and rinse your mouth with mouthwash.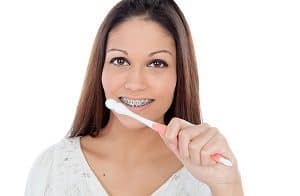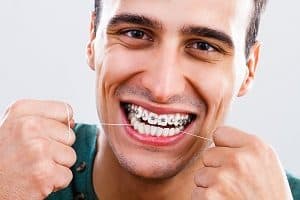 Do You Want To Know More?
At Clear Choice Orthodontic Associates in Katy, TX, we strive to provide a consultative approach for every patient. We want you to fully understand your treatment options before any work has begun, so you are confident in your choice in your treatment and your choice in our practice.
If you want to learn more about your or your child's smile transformation, click here to schedule your appointment today! We can't wait to welcome you as a member of the Clear Choice Orthodontic Family.
This article is not meant as medical advice and is for educational purposes only. If you would like to know more about braces and other orthodontic treatments, feel free to call Clear Choice Orthodontic Associates at 281.587.4900 or click here to schedule your free Dr. McLendon Smile Analysis.
5-STAR-RATED ORTHODONTISTS IN HOUSTON, TX, FRIENDSWOOD, TX, SPRING, TX & KATY, TX
"I have always received first class treatment at Clear Choice Orthodontics. I am always impressed by the professional staff and friendliness. I would highly recommend them to anyone looking for orthodontic work! I love them!"
"I absolutely loveeeeee the staff at Clear Choice. My daughter's father is a patient there, and recommended that our daughter go for her braces. They are nice, clean, efficient, and fast!!! Almost makes me wanna get braces for fun!"
"The staff and the Dr. were very helpful. They made sure they answered all of our questions and more. This was my daughters first visit and I am very pleased. Thanks again!!"
*The reviews listed are from actual patients of Clear Choice Orthodontic Associates. Individual results may vary. Reviews are not claimed to represent results for everyone.