By Your Top-Rated Friendswood, TX, Orthodontist
The most commonly worn type of braces continues to be traditional metal braces, and with good reason. This tried-and-true method of straightening teeth has helped countless orthodontic patients with a wide variety of concerns, including crossbites, underbites, overbites, gaps between teeth, overly crowded teeth, and even speech impediments.
Metal braces consist of brackets attached semi-permanently to each tooth and then held together by a long wire called an archwire. Your orthodontist in Friendswood, TX, will place the brackets on your teeth in such a way that the archwire will appear perfectly straight when it connects them.
What Should You Know Before You Get Metal Braces?
Of course, every patient is different, and not everything listed in this article will necessarily apply to you. That being said, here are some of the common experiences that people tend to have when they first get their new braces put onto their teeth.
After an adjustment, your mouth may be mildly sore or achy. This is normal.
You will need to avoid certain foods and drinks that can damage your braces. Your Friendswood, TX, orthodontist will be able to give you a list of foods and drinks to avoid.
Sometimes the brackets can irritate your gums while you adjust to your new braces. Your orthodontist can give you some special wax to place over your braces to help alleviate this.
You will need to pay special attention to how you brush and floss your teeth in braces. Ask your Houston, TX, area orthodontist for advice on how to do this best.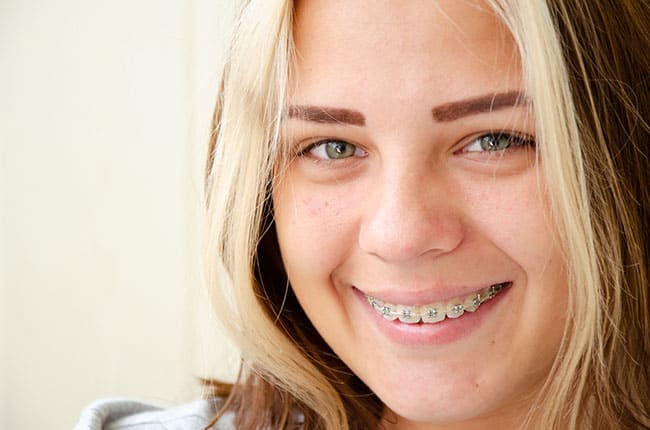 Do You Want To Know More?
At our orthodontics office in Friendswood, TX, we do our best to make your braces treatment as comfortable and enjoyable as possible. If you or a loved one is interested in learning more about life with braces, feel free to give us a call to schedule your free Dr. McLendon Smile Assessment. We will be happy to answer all your questions.
This article is not meant as medical advice and is for educational purposes only. If you would like to know more about braces and other orthodontic treatments, feel free to call Clear Choice Orthodontic Associates at 281.587.4900 or click here to schedule your free Dr. McLendon Smile Analysis.
5-STAR-RATED ORTHODONTISTS IN HOUSTON, TX, FRIENDSWOOD, TX, SPRING, TX & KATY, TX
"I have always received first class treatment at Clear Choice Orthodontics. I am always impressed by the professional staff and friendliness. I would highly recommend them to anyone looking for orthodontic work! I love them!"
"I absolutely loveeeeee the staff at Clear Choice. My daughter's father is a patient there, and recommended that our daughter go for her braces. They are nice, clean, efficient, and fast!!! Almost makes me wanna get braces for fun!"
"The staff and the Dr. were very helpful. They made sure they answered all of our questions and more. This was my daughters first visit and I am very pleased. Thanks again!!"
*The reviews listed are from actual patients of Clear Choice Orthodontic Associates. Individual results may vary. Reviews are not claimed to represent results for everyone.