5-STAR-RATED ORTHODONTIST FOR LOW FRICTION METAL BRACES IN HOUSTON, FRIENDSWOOD, THE WOODLANDS, SPRING & KATY, TX
Metal Braces – The Tried & True Way To Straight Teeth & A Beautiful Smile
Clear Choice Orthodontic Associates is your 5-star-rated provider of metal braces in Houston, Friendswood, The Woodlands, Spring and Katy, TX.
Metal braces are very durable and can withstand most types of orthodontic treatment. Today's metal braces are smaller, sleeker, and more polished than ever before. In fact, today's metal braces are far more advanced than they were even ten years ago! In some patients' cases, the tried-and-true, traditional metal braces will indeed be the best option for optimal results.
Clear Choice Orthodontic Associates offers Synergy low friction metal braces made by Rocky Mountain Orthodontics. Testing has shown that Synergy low friction braces provide numerous benefits over self-ligating metal braces available today, including:
Lower friction between your brackets and the archwire that connects them means faster tooth movement. As a result, this means shorter overall treatment time for you.
Synergy brackets give your orthodontist better control over the movement of your individual teeth. This leads to more precise tooth movement, especially in the finishing stages of your treatment.
Since Synergy brackets don't use the clips or slides that you find in self-ligating metal braces, you won't have to deal with broken, clogged, or deformed pieces on your braces. This also means you have far fewer crevices where food particles and bacteria can hide.
When you choose to receive Synergy low friction metal braces or one of our other teeth straightening methods, you will also benefit from our McLendon Method of evaluating your unique facial structure during your initial exam. When our Houston orthodontist prepares to place your new braces, this will be done with your final outcome in mind. Your finished result will be a properly centered, wide smile. To achieve this, your treatment plan will ensure that each tooth's path of movement brings it into the right angle and position for your most beautiful smile.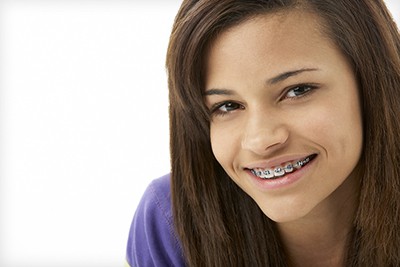 To Get Started, Schedule Your Complimentary Dr. McLendon Smile Analysis!
To learn more about low friction metal braces in Houston, TX and other treatment options, schedule your complimentary Dr. McLendon Smile Analysis. This package for new patients includes an office tour, a complete exam, x-rays, and a comprehensive consultation with one of our expert orthodontists – a $250 value, yours free! To learn more or to schedule your free Dr. McLendon Smile Analysis, call 281.587.4900 or click here to request your appointment. We look forward to meeting you!
Over 25,000 Smiles Transformed With Invisalign & Metal Braces In Houston, Friendswood, Clear Lake, Pearland, The Woodlands, Conroe, Spring, Alvin, Katy & Tomball, TX
Come experience Clear Choice Orthodontic Associates! You will see we offer effective metal braces in Houston, The Woodlands, Friendswood, Spring, Katy, Pearland, Clear Lake, Conroe, Alvin and Tomball, TX.
5-STAR-RATED ORTHODONTISTS IN HOUSTON, TX, FRIENDSWOOD, TX, SPRING, TX & KATY, TX
"I have always received first class treatment at Clear Choice Orthodontics. I am always impressed by the professional staff and friendliness. I would highly recommend them to anyone looking for orthodontic work! I love them!"
"I absolutely loveeeeee the staff at Clear Choice. My daughter's father is a patient there, and recommended that our daughter go for her braces. They are nice, clean, efficient, and fast!!! Almost makes me wanna get braces for fun!"
"The staff and the Dr. were very helpful. They made sure they answered all of our questions and more. This was my daughters first visit and I am very pleased. Thanks again!!"
*The reviews listed are from actual patients of Clear Choice Orthodontic Associates. Individual results may vary. Reviews are not claimed to represent results for everyone.