5-STAR-RATED ORTHODONTIST FOR CLEAR BRACES IN HOUSTON, FRIENDSWOOD, SPRING & KATY, TX
Get A Straighter More Beautiful Smile With Clear Braces
Clear Choice Orthodontic Associates is your 5-star-rated provider of clear braces in Houston, TX, as well as Friendswood, The Woodlands, Spring and Katy, TX.
Clear braces are a popular choice for teens and adults who want to make a less noticeable statement with their commitment to a healthier smile. You'll be struck by the natural look of these smooth, sculpted, and completely clear braces. In addition, our clear braces will not stain or discolor.
At Clear Choice Orthodontic Associates, we provide our patients with clear monocrystalline braces. These clear braces offer our patients the look they want, with all of the functionality of traditional metal braces. Their comfortable, sculptured design and attractive translucent appearance help provide the self-confidence that comes from wearing braces that look as good as they perform.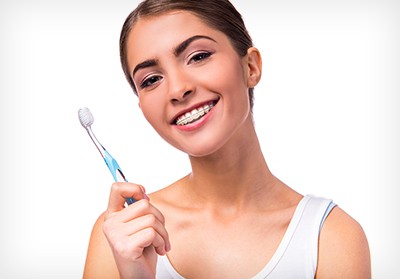 Clear Braces That Remain Clear During Your Orthodontic Treatment
In addition, unlike with so-called "clear" multi-crystal ceramic braces offered elsewhere, the higher quality of monocrystalline clear braces keeps your brackets from clouding during treatment. Typically, monocrystalline braces will cost more than multi-crystal ceramic braces; however, at Clear Choice Orthodontic Associates, we provide these higher quality brackets at no additional cost to you. This is one of the many ways that we show our dedication to your ideal smile.
When you choose to receive clear braces or one of our other types of braces, you will also benefit from our McLendon Method of evaluating your unique facial structure during your initial exam. When our Houston orthodontist prepares to place your new braces, this will be done with your final outcome in mind. Your finished result will be a properly centered, wide smile. Your treatment plan will ensure that each tooth's path of movement brings it into the right angle and position. As a result, you'll  for your most beautiful smile.
To Get Started, Schedule Your Complimentary Dr. McLendon Smile Analysis & Clear Braces Consultation!
To learn more about clear braces and other treatment options, schedule your complimentary Dr. McLendon Smile Analysis and braces consultation. This package for new patients includes an office tour and a complete exam. In addition, x-rays and a comprehensive consultation are included with one of our expert Houston orthodontists – a $250 value, yours free! To learn more or to schedule your free Dr. McLendon Smile Analysis, call (281) 587-4900. To schedule your appointment online, click here. We look forward to meeting you!
Over 25,000 Smiles Transformed With Invisalign, Braces & Clear Braces In Houston, Friendswood, Clear Lake, Pearland, The Woodlands, Conroe, Spring, Alvin, Katy & Tomball, TX
5-STAR-RATED ORTHODONTISTS IN HOUSTON, TX, FRIENDSWOOD, TX, SPRING, TX & KATY, TX
"I have always received first class treatment at Clear Choice Orthodontics. I am always impressed by the professional staff and friendliness. I would highly recommend them to anyone looking for orthodontic work! I love them!"
"I absolutely loveeeeee the staff at Clear Choice. My daughter's father is a patient there, and recommended that our daughter go for her braces. They are nice, clean, efficient, and fast!!! Almost makes me wanna get braces for fun!"
"The staff and the Dr. were very helpful. They made sure they answered all of our questions and more. This was my daughters first visit and I am very pleased. Thanks again!!"
*The reviews listed are from actual patients of Clear Choice Orthodontic Associates. Individual results may vary. Reviews are not claimed to represent results for everyone.