GET STRAIGHT TEETH UP TO 50% FASTER WITH PROPEL AT CLEAR CHOICE ORTHODONTIC ASSOCIATES
At Clear Choice Orthodontic Associates, we are happy to offer Propel technology to patients who want a noninvasive method of speeding up their time in metal braces, clear braces, or Invisalign. By using Propel you can reduce the time of your orthodontic treatment by up to 50%! With accelerated treatment from Clear Choice Orthodontic Associates, you'll be flashing your most perfect smile before you know it. If you're looking for a faster way to straight teeth, try Propel in Houston TX, or one of our four convenient orthodontic offices in Houston, The Woodlands, TX, Friendswoods, TX, Spring, TX and Katy, TX.
Propel works with your own biology by stimulating the bone surrounding your teeth, helping the teeth to move faster and more predictably into their ideal position. This allows you to see your new smile faster and requires fewer visits to our Houston orthodontics office. Furthermore, Propel can be completed right here in our office and does not require invasive surgical procedures. Additionally, Propel treatment yields very little discomfort. There is zero recovery time, and you will be able to return to your normal daily routine immediately afterward.
Propel can be used for approximately 80% of patients receiving orthodontic treatment and can be used in conjunction with any treatment type, including Invisalign clear aligners, clear braces, and metal braces.
At Clear Choice Orthodontic Associates, we offer two different types of accelerated treatment with Propel:
The VPro5 is a small device that you use at home for just 5 minutes per day. Simply bite down on the mouthpiece while you're wearing your Invisalign aligners, and the VPro5 will deliver gentle vibrations to help ensure your aligners fit properly.
Improperly seated aligners can slow overall treatment time and sometimes even force patients to backtrack to previous aligner trays. With Propel VPro5, you can feel confident in your aligner fit and enjoy your journey toward your ideal smile.
Propel's Excellerator technology can be used with both braces and Invisalign to speed up your overall treatment time. Propel's Excellerator is a 15-minute, in-office gum treatment. An alternative to daily, at-home vibration treatments, Propel orthodontic technology speeds up tooth movement. In addition, Propel works with your own biology by stimulating the bone surrounding your teeth. This allows you to see your new smile faster and requires fewer visits to our office.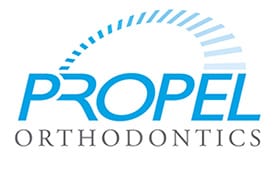 To learn whether you would be a good candidate for accelerated braces or Invisalign treatment with Propel Excellerator, ask your Clear Choice Houston orthodontist today!
With the AcceleDent system from Clear Choice Orthodontic Associates, you can now reduce the time of your orthodontic treatment by up to 50%! Using this pain-free, easy appliance, you'll achieve your most perfect smile in no time at all.
How Does AcceleDent Work?
AcceleDent is a light, comfortable, and hands-free appliance that is used 20 minutes per day as a complement to braces to accelerate tooth movement. The patented technology gently vibrates the teeth and surrounding bone, allowing teeth to move more freely. The best part of the AcceleDent system is that it's completely safe! You may experience a slight tingling sensation, much like that of the vibration of an electric toothbrush, but it should diminish after you become accustomed to using the appliance.
Accelerate your orthodontic experience without sacrificing aesthetics. AcceleDent can be used for adolescents, teens, and adults, and it is completely safe for patients of all ages. Furthermore, the AcceleDent appliance is lightweight and comfortable. You may even forget you're using it! The hands-free design allows you to achieve a beautiful, straight smile faster than you ever thought possible. Use it while reading, watching television, listening to music, or even during school work.

To learn more about Propel or AcceleDent accelerated orthodontic treatment with braces or Invisalign, schedule your complimentary Dr. McLendon Smile Analysis. This package for new patients includes an office tour and a complete exam. In addition, it includes x-rays and a comprehensive consultation with one of our expert Houston, TX orthodontists – a $250 value, yours free! Schedule your free Dr. McLendon Smile Analysis to learn more by calling (281) 587-4900. To request your appointment online, click here. We look forward to meeting you!
Over 25,000 Smiles Transformed At Clear Choice Orthodontic Associates – Serving Houston, Friendswood, Clear Lake, Pearland, The Woodlands, Conroe, Spring, Alvin, Katy & Tomball, TX
5-STAR-RATED ORTHODONTISTS IN HOUSTON, TX, FRIENDSWOOD, TX, SPRING, TX & KATY, TX
"I have always received first class treatment at Clear Choice Orthodontics. I am always impressed by the professional staff and friendliness. I would highly recommend them to anyone looking for orthodontic work! I love them!"
"I absolutely loveeeeee the staff at Clear Choice. My daughter's father is a patient there, and recommended that our daughter go for her braces. They are nice, clean, efficient, and fast!!! Almost makes me wanna get braces for fun!"
"The staff and the Dr. were very helpful. They made sure they answered all of our questions and more. This was my daughters first visit and I am very pleased. Thanks again!!"
*The reviews listed are from actual patients of Clear Choice Orthodontic Associates. Individual results may vary. Reviews are not claimed to represent results for everyone.