MEET DR. RAY MCLENDON, OUR 5-STAR-RATED ORTHODONTIST IN HOUSTON, TX, FRIENDSWOOD, TX & SPRING, TX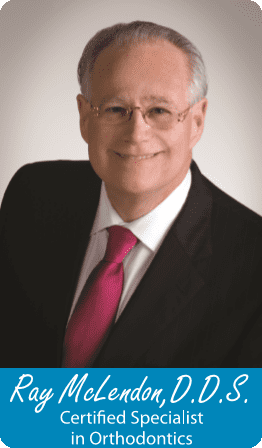 Orthodontist In Houston TX – Top 1% Provider Of Invisalign & Founder
Ray McLendon, DDS is our orthodontist in Houston, TX and top 1% provider of Invisalign. He is the founder of Clear Choice Orthodontic Associates and works out of our Houston (Galleria), Friendswood and The Woodlands orthodontic offices. Dr. McLendon is a native Texan (Beaumont) and has been a Houstonian since 1970 (Spring Branch High School, Houston Baptist University, UT Dental Branch at Houston for both DDS and Orthodontic Specialist Certification, and much later, Rice Jones School of Business (Health Care).
Orthodontist In Houston TX With A Passion
Patient care and making a difference in the lives of his patients, his staff, and the community are a passion. Furthermore, Dr. McLendon is also a gifted teacher and loves learning new ideas and teaching in the field of orthodontics.
He has been recognized as a Top Invisalign Orthodontist in Houston, TX, and has been recognized for an experience level of treating more Invisalign patients than any doctor in the world. In addition, he has held the position of vice president of clinical programs for Align Technology (The makers of Invisalign), responsible for all doctor training and support, including all dental school and orthodontic school training programs. Dr. McLendon is clearly one of the leading orthodontic and Invisalign experts in the world. As a result, if another doctor said that Invisalign was not right for you, you can be treated by Dr. McLendon!
Trusted by his peers, he has been elected in years past as…
Director of continuing education for the Houston Regional Society of Orthodontists
President of the Houston Regional Society of Orthodontists
President of the Texas Association of Orthodontists
Director of the Humble – Intercontinental Rotary Club, and Paul Harris Fellow
Furthermore, Dr. McLendon and his wife Lois are very active in their local Christian church – Celebration Church Of The Woodlands. They would love to see you there!
Over 25,000 Smiles Transformed With Our Orthodontist In Houston, Friendswood, Clear Lake, Pearland, The Woodlands, Conroe, Alvin, Spring, Katy & Tomball, TX
Since 1983, orthodontists in Houston, TX have helped over 25,000 patients transform their happy and healthy smiles with braces, Invisalign, and orthodontic treatment. Patients enjoy flexible payment plans for braces, our 10% family discount, same-day treatment, and more.
Come experience Clear Choice Orthodontic Associates! Consequently, you will see we offer innovative and effective orthodontics in Houston, Katy, Friendswood, The Woodlands, Spring, Clear Lake, Pearland, Conroe, Alvin, and Tomball, TX – and we do it with a smile!
5-STAR-RATED ORTHODONTISTS IN HOUSTON, TX, FRIENDSWOOD, TX, SPRING, TX & KATY, TX
"I have always received first class treatment at Clear Choice Orthodontics. I am always impressed by the professional staff and friendliness. I would highly recommend them to anyone looking for orthodontic work! I love them!"
"I absolutely loveeeeee the staff at Clear Choice. My daughter's father is a patient there, and recommended that our daughter go for her braces. They are nice, clean, efficient, and fast!!! Almost makes me wanna get braces for fun!"
"The staff and the Dr. were very helpful. They made sure they answered all of our questions and more. This was my daughters first visit and I am very pleased. Thanks again!!"
*The reviews listed are from actual patients of Clear Choice Orthodontic Associates. Individual results may vary. Reviews are not claimed to represent results for everyone.