MEET DR. EDUARDO MEJIA, OUR 5-STAR-RATED HOUSTON, TX ORTHODONTIST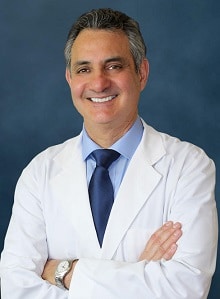 Dr. Eduardo Mejia, our Houston, TX orthodontist works out of our FM 1960 Houston orthodontics office. He earned his Doctorate of Dental Medicine in Mexico and attended the prestigious program at the University of Nebraska for his Orthodontic Certification and Master's degree, graduating in 1984. He has practiced as an orthodontist for over 30 years and has given lectures in numerous countries. Some of these countries include Mexico, Colombia, Nicaragua, and Saudi Arabia. Furthermore, Dr. Mejia participates in many continuing education courses and constantly incorporates new treatment techniques and technologies into his practice. As a result, this helps to achieve high quality results with an easier, more comfortable experience for his patients.
Houston, TX Orthodontist With A Passion For Giving Back
As a Houston, TX orthodontist, Dr. Mejia has also participated in many outreach programs. He has volunteered with the non-profit program "Operation Smile" to help children with cleft palates in countries such as Colombia, Nicaragua, and the Philippines.
Outside his Houston, TX orthodontics office, Dr. Mejia and his wife, Maisa, have two children, Valentina and Juan Pablo. His children keep them up-to-date on all the important TV, music, and pop culture events. They also have a beautiful dog, Juicy, who loves to greet Dr. Mejia when he gets home and helps to keep him in shape. In his free time, Dr. Mejia enjoys exercising, and he has participated in local half marathons. In addition, Dr. Mejia is a Dallas Cowboys fan and loves to meet new people.
Over 25,000 Smiles Transformed With Our Houston, TX Orthodontist – Serving Houston, Friendswood, Clear Lake, Pearland, The Woodlands, Conroe, Alvin, Spring, Katy & Tomball, TX
Since 1983, our Houston TX orthodontist have helped over 25,000 patients transform their happy and healthy smiles with braces, Invisalign, and orthodontic treatment. Patients enjoy flexible payment plans for braces, our 10% family discount, same-day treatment, and more.
Come experience Clear Choice Orthodontic Associates! Consequently, you will see we offer effective braces in Houston, Katy, Friendswood, The Woodlands, Spring, Clear Lake, Pearland, Conroe, Alvin, and Tomball, TX – and we do it with a smile!
5-STAR-RATED ORTHODONTISTS IN HOUSTON, TX, FRIENDSWOOD, TX, SPRING, TX & KATY, TX
"I have always received first class treatment at Clear Choice Orthodontics. I am always impressed by the professional staff and friendliness. I would highly recommend them to anyone looking for orthodontic work! I love them!"
"I absolutely loveeeeee the staff at Clear Choice. My daughter's father is a patient there, and recommended that our daughter go for her braces. They are nice, clean, efficient, and fast!!! Almost makes me wanna get braces for fun!"
"The staff and the Dr. were very helpful. They made sure they answered all of our questions and more. This was my daughters first visit and I am very pleased. Thanks again!!"
*The reviews listed are from actual patients of Clear Choice Orthodontic Associates. Individual results may vary. Reviews are not claimed to represent results for everyone.